Designing your landscape in Florida is different from doing so in other states. With the warm weather and an abundance of heavy rains, you will find a lot of exotic and beautiful plants here that you can grow in your yard. There are so many varieties to choose from that, at some point, it can be overwhelming to decide on which ones to get.
Here's something to keep in mind: a mix of tropical and classic plants is the way to go. Here are three tips to help you come up with the right landscape design.
Choose The Right Plants
Florida receives a lot of sunshine. Therefore, when it comes to plants, choose the ones that can thrive in this type of weather. If you're looking to plant trees and shrubs to add to your landscape, palm trees are a good choice. They can beautify any landscape and thrive in full sun or partial shade.
Bulbous plants, such as African lilies and caladiums, are perfect for adding a tropical vibe to your landscape, and using bulbs may be more familiar to new residents from up north. Depending on the variety, they can tolerate full sun exposure. On the other hand, if you prefer to grow hyacinths and other types of lilies, you'll only be disappointed because they require a cold dormant period and are not a good choice for a Sarasota area landscape.
Stick to plants that can thrive in the sunny weather of Florida, and you'll have a rich landscape with healthy greenery all year round.
Additionally because Florida is a large state that runs mainly North to South we also have several plant hardiness zones. Hard freezes are not uncommon in winter in northern to central Florida while south Florida is nearly tropical in climate. Be sure to select plants, trees and palms that will thrive in your planting zone. Sarasota county is divided between zone 9b inland and the norther areas, and 10a along the coast and further south. Gardeners can have success with fully tropical palms and larger trees in zone 10a as long as they are near the coast, while areas inland should stay toward plants that are at least somewhat cold tolerant.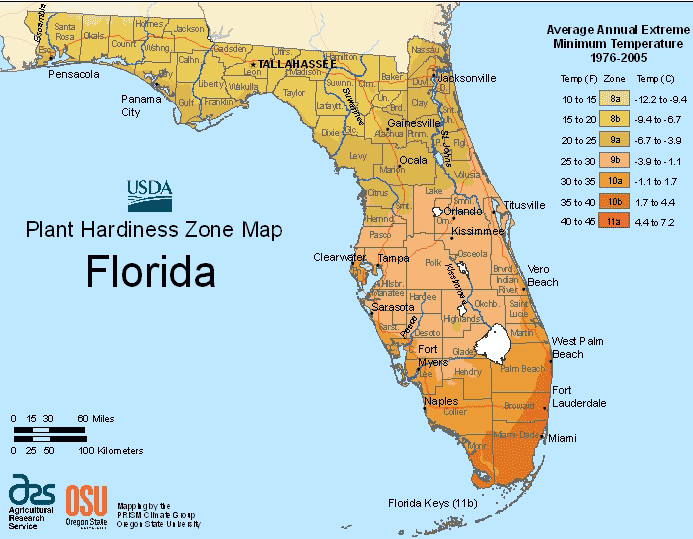 Practice Good Water Management
Overwatering has become a huge problem for homeowners in Florida. Not only does it compromise the water supply, but it also leads to higher water bills. Therefore, you need to take the time to select the proper water management option for your plants.
Sprinklers are highly popular for homeowners because they're easy to install. You can also keep it simple with a garden hose, especially if you have time every day to water your plants manually. However, for best results in water management  new fully automated systems connected to small on-site weather stations set up by a landscape company  will provide you with the best solutions for your landscape. These systems measure the temperature, humidity and rain events to determine when the irrigation system should run not in terms of day to day operation and seasonally.
Keep Pests Away
Florida Landscape Pests such as whiteflies, mealybugs, and aphids can ruin your plants. You can opt to remove these insects on your own, but if the task is too difficult to handle, you might want to consider hiring landscape professionals who can use chemicals and other methods to get rid of them.
Making sure that your yard is free of pests can be a challenge, so it's essential to have experts look into and address the problem before it gets out of hand.
A good landscape design involves the right plants, proper water management, and pest control measures. You can come up with a plan for your own landscape by getting ideas online and putting all of them together. Or better yet, you can hire a professional landscaper who can help you create the best design that will go well with your property and suit your needs.
Fortunately, there are a lot of seasoned landscapers in Florida because landscaping is big business here. The trick is to find a reputable one who can provide you with landscaping services that will meet your needs and budget. You don't have to break the bank to achieve your landscaping goals as long as you work with the right landscaping company.